Thinking about getting into teaching? Let us tell you why we think that is a GREAT idea.
Teaching is a career that makes a difference. Everyone remembers the teacher (or teachers) who changed their lives. The one's that saw a potential in us we didn't know we had. That is what we want to help you become.
We want your lesson to be the one pupils look forward to the most. The class that opens up a bigger world to them. To be the teacher that they write the thank you note too. The one they feel safe coming too when things are difficult. The one they talk about in their graduation speech. The teacher they believe in and look up too.
We want you to flourish in a career that supports you to keep on growing, developing and learning in. To take the best from theory and research, and make it work in your classroom.
We want you to feel part of a community of professionals, who support one another and collaborate to improve the world around them. A community committed to their ongoing learning.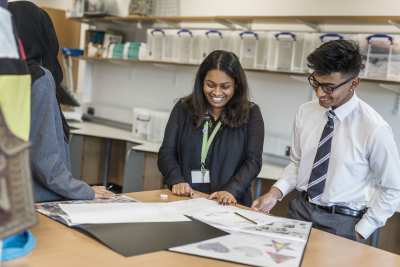 At our SCITT we have extensive experience supporting people from all over our community to get into teaching. If you are considering a change in career, are disabled, have a mental health condition or educational needs get in touch to talk through how we can support you on your journey into teaching.
Ready to find out more?